Pittsburgh Tour Bus Rental

When in Pittsburgh, Bus Tours Make All the Difference
There's an old saying that goes, "When in Rome, do as the Romans do." Pittsburgh is not Rome. However, when you are traveling to Pittsburgh, bus tours may be necessary. After all, there is a lot of rich history in this incredible city. When you're looking for a Pittsburgh Bus Rental, the company you choose can make all the difference in your trip.
A Pittsburgh bus rental may be an afterthought for a lot of people, including corporations that are sending a number of employees to a seminar or convention. It may also be an afterthought for school administrators when planning a trip to a museum, amusement part, or some other special event.
Even for larger groups that need some type of Pittsburgh airport transportation beyond taxis and shuttle services, the type of charter bus rental Pittsburgh is going to have a direct impact on the entire trip itself. Consider this: whatever people are heading to the airport, they are going to be boarding a plane.
Whether that flight is an hour or 13 hours, or even longer, they are going to be stuck on the airplane for quite a bit longer than just the time they are in the air.
Pittsburgh Airport Transportation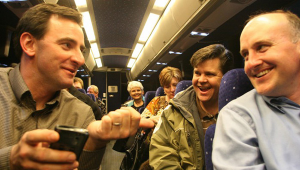 Between boarding, getting clearance to leave the gate, taxiing down the runway and waiting for takeoff, and then doing that all again upon landing, it could be an extra hour or even to (sometimes longer) that they are stuck in cramped quarters on an airplane.
The last thing they want to do is be stuck in an uncomfortable bus on the way to the airport. If you need Pittsburgh airport transportation for larger groups. You should choose a company that has late-model vehicles, reclining and comfortable seats, and digital monitors for television viewing.
If you need a Pittsburgh bus tour, then you should focus on a company that has knowledgeable and highly experienced chauffeurs. Hire Charter Bus Services also conducts drug testing on all of their chauffeurs, based on DOT guidelines. They also conduct background checks to make sure all of their drivers have a great deal of experience. And a wonderful track record of success when it comes to safety.
You have plenty of options when it comes to Pittsburgh bus rental companies. And when you choose the right one for your meeting, convention, sporting event, school trip, long distance travel needs. Or anything else, you will feel much better at the end.
Hire Charter Bus Services can accommodate up to 4,000 people. Get Instant Pittsburgh Bus Rental Price at (877) 243-4717