Washington DC Bus Tours

Why the Company Matters When it Comes to DC Bus Tours?
Maybe you haven't thought much about a DC bus tour company, but when it comes to any type of tours, comfort and safety should be a top priority. However, not every company places this as a priority.
If you don't focus on finding the right Bus Tours Washington DC for you and your group, you could and up with a lot of unhappy people riding along on this trip.our
Why would you even need a Bus Tours in Washington DC?
There are many reasons, which is why there are so many Washington DC Tours companies. Washington, DC is one of the most visited locations in the entire world. There are some incredible buildings, monuments, and more that honor the nation that led the world into freedom.
Will there are certainly plenty of places throughout the world that still don't have freedom, the United States has been a beacon to those who yearn for it. And Washington, DC is the Capital of it all.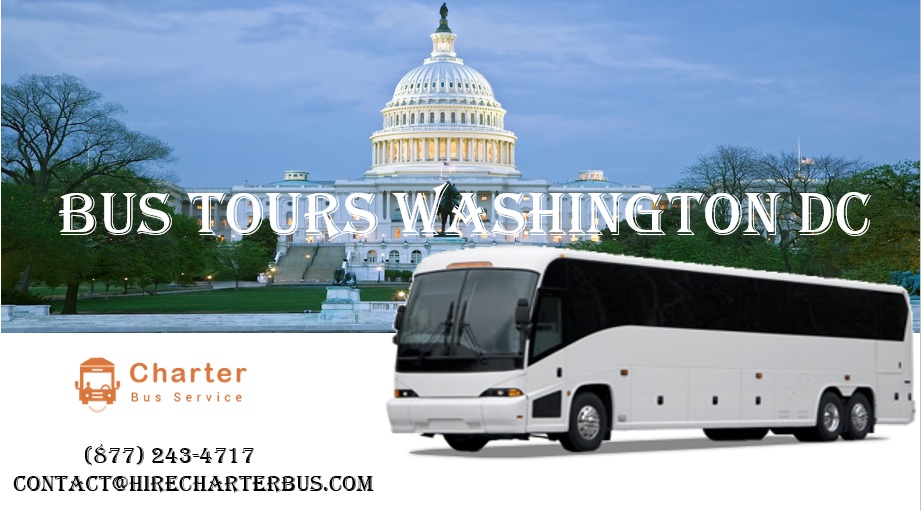 So if you're planning to Bus Tours in Washington DC, this great city, you're certainly going to need the services of at least one or more DC bus tours.
When you plan on Washington DC Sightseeing Tours, what do you want to do most? Most likely you want to be able to see the most beautiful and will visited sites around. That would include the Capital building, the White House, and the Lincoln Memorial. There are plenty of other great places to visit and you can do that with the right DC Bus Tours Washington.
Washington DC Sightseeing Tours
When you choose the right Washington Bus Tours. You will end up with an experienced chauffeur who has been drug tested according to DOT guidelines, has had a background check performed on him or her, and is continually evaluated for safe driving.
You will also be getting a chauffeur who has an incredible amount of experience and knowledge about the Greater DC Area. Our DC Charter Buses chauffeurs would be able to answer any and all questions you may have about the history of DC as well as the most visited places. They may is also know about some off the beaten path destinations you might want to consider.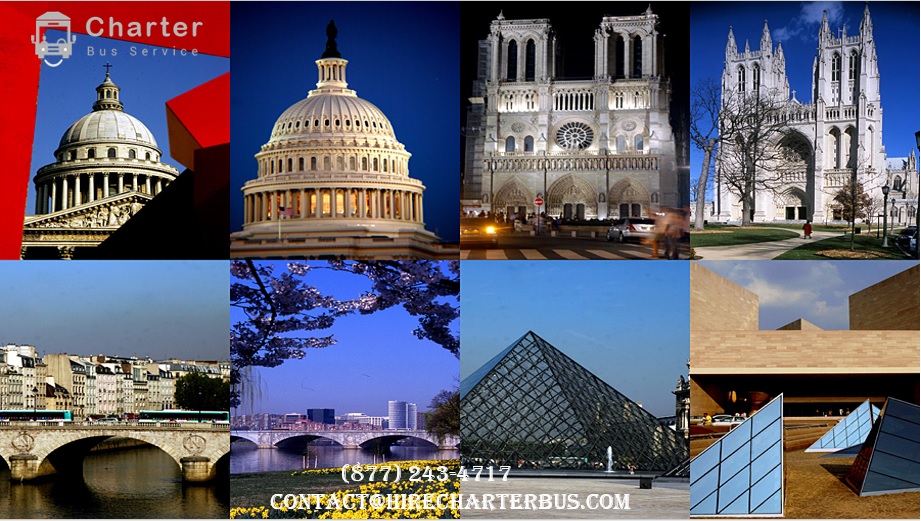 So when you're in the market for Washington DC Bus Tours, make sure you focus on choosing the best. When you want comfortable reclining seats, digital TVs, air conditioning, and 24/7 customer service and support. Then you want Hire Charter Bus Services for Washington DC Night Tours.
Get a DC Night Tour You Won't Forget
Visiting the capital of the United States is a trip you won't easily forget. Depending on when you arrive here, you could see and experience a variety of things. The most popular tourist attractions are the Lincoln and Jefferson memorials, the Capitol building, the White House, and the Vietnam War Memorial.
Those are just a few of the things you can see any time of day, but if you want an exceptional trip that you're sure to remember forever, then touring Washington DC at night is definitely a must.
Taking a DC night tour allows you to see the main attractions under the gorgeous layout of lights. The illuminated dome of the Capitol Building and the World War II Memorial are breathtaking to behold at night.
Cruise through DC in Comfort
The best way to see some of the biggest attractions is through comfort and style. That's what you get when you hire our Washington Bus Tours Company. We, Washington DC Night Tours Company offer spacious, comfortable DC tour buses with knowledgeable and courteous drivers.
Our Hire DC Bus Tours Company drivers understand the best places to visit throughout the day and especially at night. Even though some of the attractions are not open to the public 'after hours,' that doesn't mean you can't view the architecture and design of them in the best light possible.
When you board a Washington DC Night Bus Tours Company bus, you will be met with roomy seats that provide you all the leg room you'll need. You get a captivating view beyond the windows next to your seat and what's best is every seat in the bus offers great views.
Take your time on this DC night tour.
All Washington DC Night Tour Company tours are non-rushed, which means you can take your time at each destination. If you want to spend more time studying the architecture or layout of the Capitol Building, or you want to stroll along the Lincoln Memorial or National Mall, you can do so.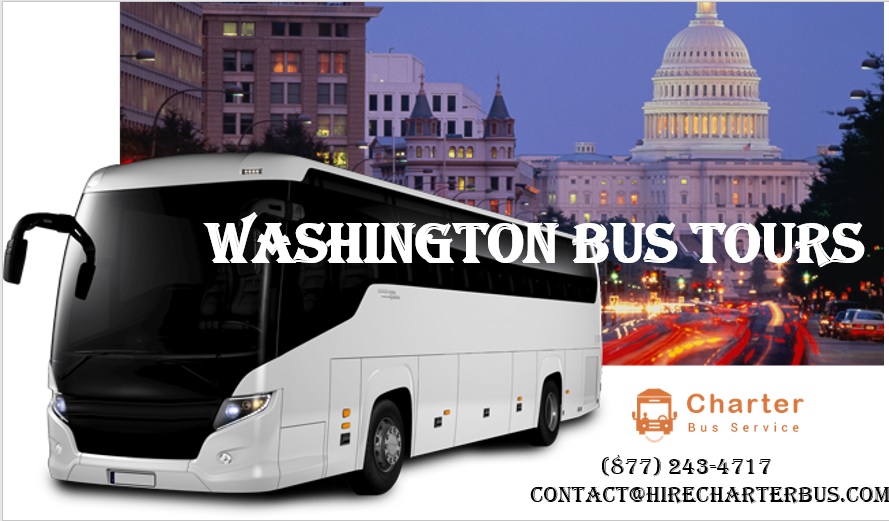 You won't be pressured or pressed for time. Each of our DC night tours comes with an experienced tour guide who can tell you all about various history throughout the city, explain in detail some important facts about various landmarks, and much more. You are invited to ask as many questions about Washington, D.C. that you have and learn everything you want about this incredible city.
Get the bus that's right for you.
Every bus in our DC Bus Tours Company fleet is ideally situated for nearly any group. If you're planning to arrive here with family and want to tour the city in comfort and style, all staying together throughout the tour. Our Washington DC Night Bus Tours Company has the ideal bus size.
If you're planning a school trip or even a corporate retreat, you may require a larger tour bus. We, Hire Bus Tours Washington DC can provide the perfect size for your needs. You can have private or group tours as well, so even if you arrived in DC by yourself. If don't know anyone else in the area, and are interested in a night tour, you can get it with comfort and style.
Come out when the sun goes down.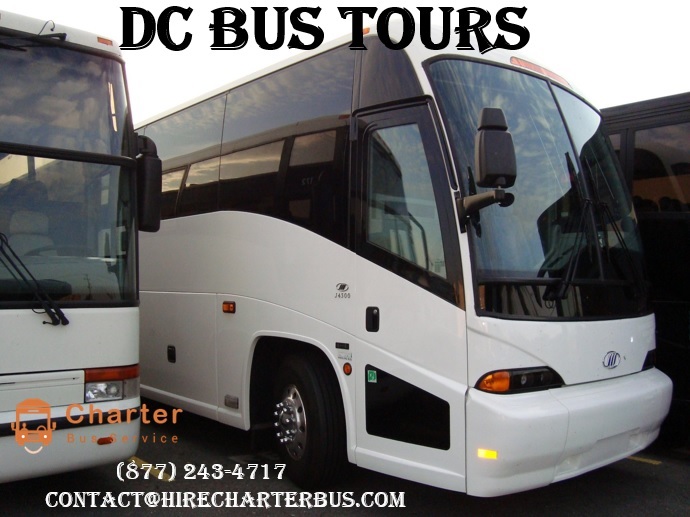 Depending on when you plan your trip to DC, you may find daytime to be hectic and a bit overwhelming. The center of world politics exists in this great city and once the sun begins to set, things begin to turn over to those who are seeking calm, comfort, and a bit of adventure.
While other cities may wind down and decide to shut down for the night. DC has built an incredibly array of attractions that are well-lit to appeal to a wide range of tourists. Seeing them with the best tour guides will provide benefits far beyond just comfort.
How long in advance do you have to book your trip?
Our DC night tours are incredibly popular, but during most times of the year you could call. And arrange your own private tour within the same day. If you've been exploring the city during the day. And realize you still have only scratched the surface, you might be interested in a night tour.
If that's the case, you can call our Bus Tours Washington DC Company and we, Washington DC Night Tours Company will likely have the ideal tour that meets your hopes and expectations.
Enjoy the stops.
While the tour doesn't stop at every attraction throughout the city. There are plenty of opportunities to get out, stretch your legs, and walk around. You can take pictures, get up close and personal with some of the sites, and take your time.
Other tours fit within a fixed timeframe so you could miss some key destinations. You don't have to worry with Washington Bus Tours. Take your time, relax, and enjoy all that the Capital of the United States has to offer. You'll be sure to enjoy every comfortable mile and incredible site.
Get Instant price quotes for our reliable DC Motor Coach Rentals & Washington Bus Tours – (877) 243-4717