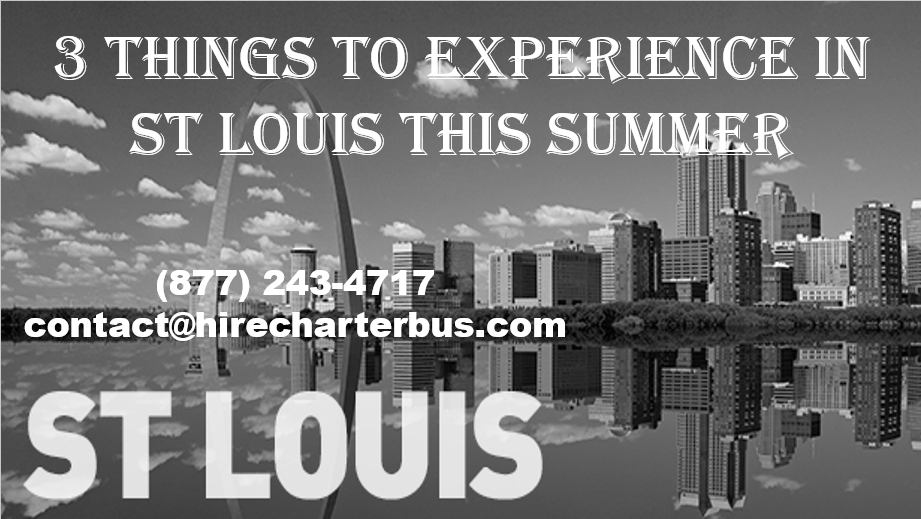 3 Things to Experience in St Louis This Summer
Is your summer trip taking you to St. Louis this time?
You need to make sure you make every second count when you are in the ultimate Gateway City.
Be mindful of the fact that this city has so much to offer that you'll probably need a Charter Bus Rental St. Louis at your service 24/7. For that reason, you better reach out to a Charter Bus Tours St Louis before you arrive. Because once you do arrive here, you wouldn't have a minute to spare.
Matter of fact, you won't even have much time to decide which places you'd want to visit. To make things easier for you, we are listing down the four of them which cannot be missed under any circumstances:
1.    Submerging Into The World Of Forest Park
Undeniably, one of the largest urban parks in the USA, Forest Park in St. Louis is home to top notch attractions and picturesque surroundings that brings 12 million visitors towards this place every year. From golf courses to floral displays and the green house, there's a lot to do and experience once you are here.
2.    Feel The Art In The Air
It's not a metaphorical statement but quite a literal one. Citygarden allows the visitors to behold and experience art in the open air with its architectural landscapes, outdoor sculptures, contemporary art, gardens plants and cafés all out under the open skies of St. Louis.
3.    Relive Your Childhood Days In The City Museum
Age is just a number and some people love to remain young at heart. If you feel like tapping into those childish days back again then visit the city museum and lose yourself into the world of caves, climbing shenanigans, aquarium with a collection of 10,000 sea creatures and many more. Even the cafes and restaurants are circus themed and the pencil you are given to take notes from is quite literally the world largest.
You can also book a Phoenix Charter Bus with the Hire Charter Bus  if that is your next destination.
Phoenix Charter Bus Rental also guarantees safety, security and convenience at an affordable rate.