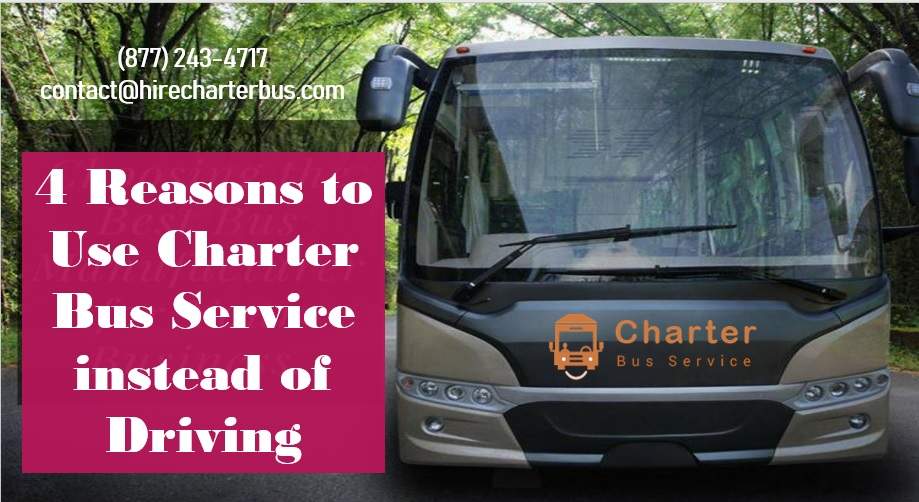 4 Reasons to Use Charter Bus Service instead of Driving
You are planning a trip but do not want to have to go through with the hassle of flying and do not want to be the one driving, a charter bus service is a perfect solution to still get to your destination in a comfortable way.
There are many benefits to using a charter bus service to travel rather than having to drive yourself. You can be more relaxed since someone else is doing the driving, you can bond more with the group you are with.
You will be saving your own car wear and tear, and you can even get a charter bus with amenities, minimizing your stops along the way. A charter bus is the way to go when traveling with a big group of friends/family to help put you in control of take-off. And so nobody gets lost along the way, you are all together.
Get The Vacation Started Early
If you go through a charter bus service company and have someone else driving, you get to be relaxing instead of driving for a long period of time. You do not want to start your trip off all tired and drowsy from a long drive. You are in the back. Eenjoying the view outside your window not having to worry about which exit to take. You are starting to relax earlier than you would be if you had driven yourself so you can be rejuvenated when arriving at your destination.
Be with Your Group
Having someone else do the driving means that you get to be in the back having a good time with the people joining you on this vacation. You engage more in socializing since you do not have to worry about the road. You can be fully participating in the fun road trip games to help pass the time. It is all about being with the ones you love on vacation.
Not Putting Miles On Your Own Car
Another benefit to taking a charter bus to your destination is that you are saving your car from putting more miles on it. It will be less wear and tear on your own car's engine. Putting a lot of miles on your everyday car just for one vacation does not sound like a good thing, so you have to consider if your car can handle the traveling or not.
Less Stops Along the Way
If your charter bus rental near me comes equipped with amenities, it will not only help pass the time but you might not need to make as many stops on your journey. If there are television sets on the bus, a couple of movies will be great to help pass the time. And if there is a restroom on board, that means you do not have to stop as often for everybody. Having amenities on the bus will help cut down travel time.
When traveling with a large group, it can be a challenge to get everybody on the same page. A charter bus makes it a little easier to relax, for everybody to be together, to save wear and tear on your personal car and to help make great timing.
(877) 243-4717
contact@hirecharterbus.com