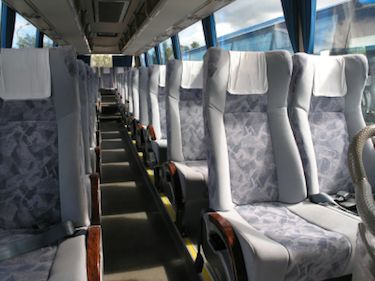 Top 4 Things to do in Chicago on a Party Bus Tour
Whether you've gathered a group of friends together for a spring fling, or you've decided to tour Chicago as part of a family reunion, your itinerary will be much more fun in party bus rental in Chicago! One of the largest cities in the U.S., Chicago offers hundreds of things to see and do, so matter how unique all of your interests are, you are sure to find something that everyone will enjoy. Here are the top 4 things to do in Chicago on a party bus:
Shedd Aquarium: Kids and adults of all ages will enjoy the Shedd Aquarium, with plenty to see and do. With over 32,000 animals to see, everyone in your group will have something to appreciate. Amphibians, sea life and birds await you – learn about their natural habitats, and get up close and personal with an array of animals.
Chicago Architecture River Cruise: Hop off the party bus for a few hours and go on a river cruise! You and your group can cruise down the historic Chicago River on a guided tour. This is a great vantage point to discover the amazing architecture that the city has to offer. Your guide will educate you on the different structures and their history. This 75-minute cruise is sure to please adults and kids alike.
Museum of Science and Industry: This sprawling museum has many points of interest, including a submarine tour. There are plenty of hands-on, child-friendly science and industrial exhibits to explore and discover. Your party bus rental in Chicago can take you there and back again, so you don't have to worry about parking or getting lost on the way.
Experience food and nightlife: The city is a foodie's dream with plenty of restaurants for whatever cuisine you and your group are craving. After a tantalizing dinner hit the bars and nightclubs for entertainment, you'll never forget. For chocolate lovers, you could book a Chocolate Lover's Walking Tour, where you'll get a sampling of some of the best chocolate in the world. For Italian fare, try Chicago Pizza & Oven Grinder; if you're looking for something more exotic, give d Noon O Kabab a try. Ready for the nightlife? Try Avondale, Gold Coast or Humboldt Park for nightly live Your party bus rental in Chicago can take you to any or all the clubs and restaurants that the city has to offer!
These are just a few attractions that Chicago has to offer. Make up an itinerary and plan at least one activity and eatery a day; you'll never get bored! And don't forget about the fun you'll have on the party bus itself. With TVs, CD and DVD players, you can party till you drop! Your chauffeur will make sure that you get to your destination safely. If you have several stops included in your itinerary, you can rest assured that you will get to and from each of them in a timely manner.
A party bus rental in Chicago is an affordable and fun way to tour the city – so gather some friends or family together and go on an adventure that you won't soon forget!
Charter Bus can help you with all of your party bus rental needs. Visit the website for more information.